Back To Blog
Most people are not aware of the importance of having a local locksmith company on the contact list of their cell phones. It is something that you should seriously consider if you are trying to beef up the security system of your home or if you do not want to be in a situation where you find yourself locked out of your house. Why is there a need to go local? It is because a local locksmith business brings a lot more to the table than a service that operates on a much broader scale. In other words, it is worth your time to learn about the different advantages of developing a healthy relationship with the locksmith in your neighborhood.
24 Hour Mobile Emergency Service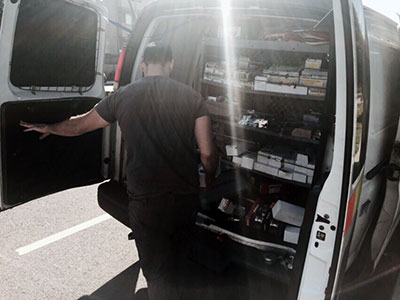 Most people have experienced the terror of being locked out of their homes or offices. Imagine having to spend an entire night in a hotel or missing out on a crucial assignment just because you had no one to help you unlock the door in the middle of the night. These are circumstances that you would ideally want to avoid at all costs, but regardless of how careful you are, you can always find yourself having such an emergency. In times like these, the assistance of a local locksmith can prove to be truly invaluable. A same day service locksmith that operates round the clock will allow you to call a professional at any given time of the day to help you get out of a sticky situation. Local locksmiths who provide 24 hour mobile services arrive to the scene fully equipped and are always ready to handle the trickiest of problems.
A Quick Repair
A complete replacement of all the locks in your home or office can turn out to be pretty costly. The alternative in such a situation is to have the locks repaired. This quick fix is something that local locksmiths are excellent at. Whether it is commercial lock repair or residential lock maintenance, these experts are up for the task. The quick fix saves you plenty of time and money. Their services can be extremely valuable when you are in desperate need of an emergency car key replacement. In addition to that, it affords you a longer duration to think about how and when to start spending on getting replacement locks. Since local locksmiths are already aware of the kind of locks that are used in the neighborhood or the town, they will require minimal time to get your lock working again.