Back To Blog
People use keys every day, whether for opening the door to their house or office, the drawer to their cabinets, the door to their car, etc. As you may have probably noticed it, not all keys look alike, except for of course for duplicate ones. Not all have the same function. You also probably know already that there are different types of keys. The question is, are you aware what exactly are these types? If you want to know more, continue reading below.
Old and new house keys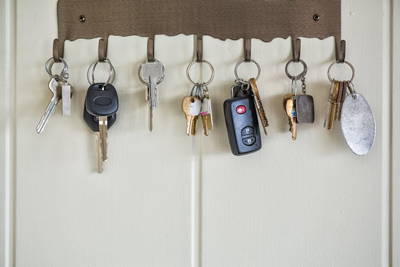 You've guessed it right. House keys are the ones used in opening the locks of house or even office doors. Basically there are two forms of house keys known today: old and new. The old type is used in opening lever locks whereby a set of flat levers are elevated to varied heights by the key. The slots of each of the levers would then line up so that the bolt could move, permitting the door to open and close. Instead of pointy edges, the tops of the key teeth are flat. They are heavier and bigger but more secure. The newer form, on the other hand, has pointy edges. It is used in opening a wafer-tumbler or pin tumbler lock. It has a series of groves on one side that corresponds to a particular lock. As such, when inserted in a lock not specifically made for it, the lock would not open. This is why when you lose your only key to the same, you would have to avail of lock re-key services.
Car Keys
Another common type of key is the one used in cars. It can open car doors, the trunk, the glove compartment, and most importantly start the ignition. For this type the usual locksmith services apply. Like house keys, an ignition car key also has several sub-types. One type is called the valet key. This one has the ability to open the door to the driver's seat as well as start the ignition. It does not allow access to parts of the vehicle where valuables might be stored. There are some that even restrict the power output of the engine to discourage joyrides. There are also automotive keys available today, which, instead of a metal piece, makes use of an infrared beam code to start up the car. Given how modern the technology used in this key is, lockout services on the same can prove to be more complex.
There are several more typed of keys out there that you are probably do not know about like transponder keys, paracentric keys, double-sided keys, and many more.